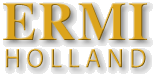 Quality pre-owned machinery for the food, beverage
and packaging industry – worldwide!

17-83019 - Nordson Mini Blue II
Make : Nordson
Type : Mini Blue II

1 of used Nordson glue gun, type Mini Blue II SureBead, 230V / 100W, with solenoid valve and 45-degree connector, new 2013. 10 pcs. available (subject to remaining unsold).
P.O. Box 377 | NL-8260 AJ Kampen | The Netherlands | Tel.: +31 (0)38 333 70 11 | Fax: +31 (0)38 333 70 12 | E-mail sales@ermi.nl | Disclaimer ©